Can you guess when was the first smartwatch released? On 10 June 1998 Seiko released the world's first smartwatch, the Ruputer. By today's standard, the Ruputer isn't really worth a raised eyebrow, but at the backend of the 20th century, it was pioneering technology. We sure have come a long way since then and boy am I glad.
Apple looked at the older smart watches that Acer and other Android innovators had created and saw a huge untapped potential in the idea of a smart watch; a device that not only tells the time and monitors your heart rate, but also answer calls, take notes and even play music.
Smart watches grew immensely popular due to a variety of factors but let's be honest, we all love the idea of giving commands to a wearable device feeling like a secret undercover agent like in old Bard Bird and Christopher McQuarrie movies.
But the real question is DO YOU REALLY NEED AN APPLE WATCH?
There is no contradiction to the fact that Apple has created the best smart watches ever. There are other popular smart watch brands like Fitbit, and Samsung and Fossil have also ventured into the smartwatch market but Apple stands to DOMINATE this sector and rather effortlessly. Apple secured a hefty 40% market share in smart watches in the year 2020 with over a hundred million users and their numbers continue to rise as we speak.
So, whether or not you NEED an Apple Watch really depends on what features you wish to use and what could come handy to you. With the large array of features they offer it's no wonder Apple has scored such huge figures. Apple has dropped a new generation of the Apple Watch every September called the Apple Series 1, Series 2, so on and so forth. Each Series has been initially sold in multiple variants differentiated externally by the watch's casing material, the color and size, except of course, for the budget watches Series 1 and SE which were released only in aluminium.
It was really in the third generation that Apple Watches really became a household name. With built-in GPS and GLONASS Apple began experimenting with all kinds of apps and features that they could pack into this state-of-the-art technological advancement. Right now we're on the Apple Watch Series 6 and things are looking very interesting indeed.
Let's have a look at some IRRISISTABLE FETURES on the new Apple Watch Series 6.
Apple has taken your health into consideration and decided to put the latest health monitoring technology into your Apple Watch. Now you can blood oxygen level thanks to their revolutionary new sensor and the Blood Oxygen App. You can also measure your ECG and sleep patterns. Apple can now help you monitor your sleeping habits and suggest methods to improve it too.
However it must be noted that the Blood Oxygen app measurements are not intended for medical use, including self-diagnosis or consultation with a doctor and are only designed for general fitness and wellness purposes. As a responsible individual you must take into account that these devices may not be a 100% accurate and must see a physician if you really feel the need to.
The Apple Watch also helps you track your daily activity and your fitness levels when you work out. Whether you're running, swimming, dancing or practicing yoga, Apple can now measure your every move and give you comprehensible figures such as Total Calories Burned, Distance covered /Steps taken and many more. You can choose to see what you want by changing the display settings at will.
With the all new Always-On Retina Display and Built-in Cellular, you can do just about anything like answer calls, send messages, give commands to Siri to makes searches or even stream songs directly from Apple Music on your watch. Apple has also gone the extra mile to work with popular fashion icons like Nike and Hermès to design the perfect watch for the modern man.
Which brings us to the next point – Apple Watch Bands. The one thing Apple had kept in mind while designing the watch bands is style AND how their users can maintain a style even with a upgrade to hardware. Through the Apple Watch Series 4 to 6 the bands on these watches remained almost the same. The same band that fit the first generation of Apple Watches will also fit the new 5 Series.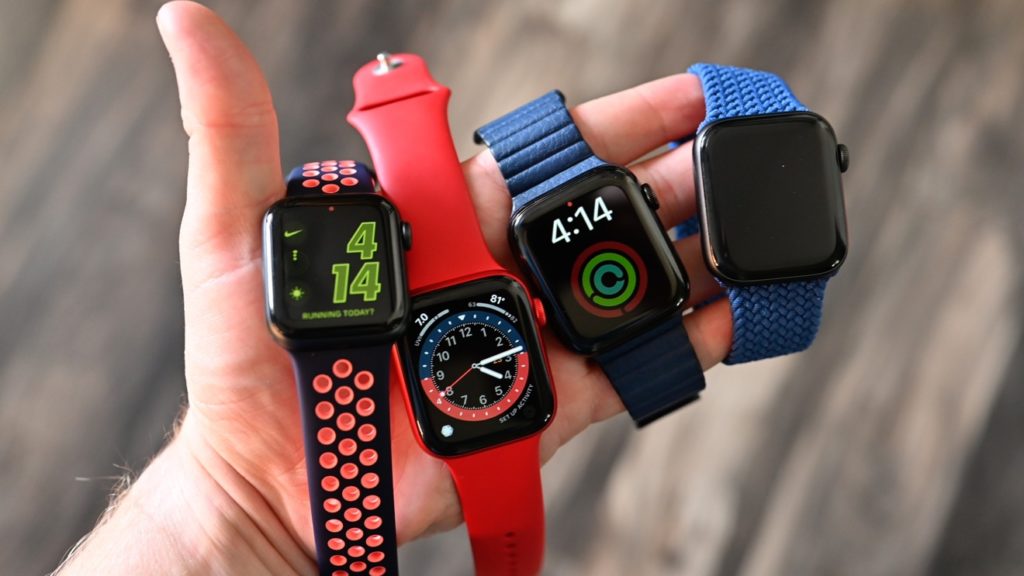 Each Apple Watch comes with a rather simple release button that allows the user to quickly switch the bands out as per the occasion. Whether you're looking to match your Apple Watch with a particular outfit for a wedding, or strap on a simple Leather strap to go with your casual attire or you want to switch to a more breathable band for your morning run, Apple Watch's quick release bands are the talk of the town.
Although there are many third party off brands that make bands for Apple Watches, Apple offers their own selection of bands to compliment any Apple Watch you own – whether it be the first generation or the sixth. Some official Apple Watch bands are the Nike Sport Band and Sport Loop, the stainless steel Milanese Loop, the very popular Link Bracelet and the much favoured Hermès Leather.
With all these latest features and being backed by top of the line fashion houses, you just can't go wrong with an Apple Watch. As a matter of fact, if you wish to upgrade to the new 6 Series and want to sell the Apple Watch you currently use, then you are sure to get a great deal on it too.
At SmartphonesPLUS.com we offer some of the best deals for your Apple Watches. Whether you wish to sell or buy used phones or smart watches, SmartphonesPLUS is sure to offer you a great deal on both. Visit our store today for a quote!